Join a Tennis Game at Our Cutting-Edge Facility
Anaheim Tennis Center is a family-owned company in Anaheim, CA that offers state-of-the-art facilities where you can enjoy a singles or doubles game of tennis. Whether you want to play with a buddy or to meet new friends, you are welcome to stop by.
Play to your heart's content in one of our 11 lighted tennis courts. After your match, you are free to use our clean locker rooms and showers. In addition, we offer reasonable hourly court rates. You can also take advantage of our membership plans that can give you more benefits in the long run if you plan on playing regularly.
We organize matches in our weekly singles and doubles events. You can come with a friend or alone to participate in our mixed double activities. If you need a partner, we can team you up with other players.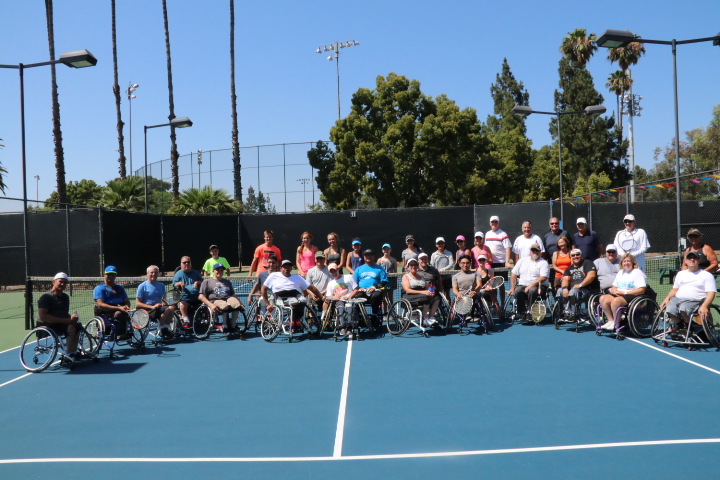 You can count on us to help you experience fair, competitive tennis games. When you give us a call, our court directors can arrange a match for you with players of equal ability.
If you are just starting to take an interest in tennis, you don't have to worry! You can learn alongside other new players in one of our clinics. Our professional instructors will help you improve your tennis strokes and build your confidence as quickly as possible.
Looking to Improve Your Game
Our staff is composed of tennis pros who offer a complete range of private, semi-private, and group lessons to sharpen your competitive skills and strategy. Whether you are a beginner or a tournament player, we can help hone your skills.
At Anaheim Tennis Center, we aim to assist you in improving your tennis playing skills. You can also stop by our facility and have a dollar handy for tennis balls to enjoy a fun-filled match. Contact our representative to sign up in one of our events. We look forward to hearing from you!
Membership Rates for Tennis and Pickleball
Membership plans are designed for individuals and families who are regular Users of the facilities and want to enjoy substantial savings and convenience.
       Tennis Membership Plans
     (No Court Fees for Members)
Single……………….$95.00 (per month)
Junior……………….$90.00 (per month)
Couple………………$115.00 (per month)
Family……………….$140.00 (per month)
No court fees
* $250 processing fee for all memberships
* 10% off yearly dues paid in advance
8         Tennis Hourly Court Fees : 
                   Non-Members
Court Fees
Monday-Sunday
7 am to 12 pm   $8.00 (per person/per hour)
12 pm to 3:30 pm $6.00 (per person /per hour)
3:30 pm to 10 pm $9.00 (per person/ per hour)
                Tennis Guest 
7:00 am - 3:30 pm…………….$14.00
3:30 pm - 10:00 pm.............$14.00
Tennis Ball Machines
Members…………….$5.00   ( per hour)
Non-Members……$25.00 (per hour)
         Pickleball Ball Machines
Members……………..$5.00 (per hour)
Non-Members…….$25.00 (per hour)
*Rates subject to change without notice.
Pickleball Membership Plans
Single………………$50.00 (per month)
Couple…………… $75.00 (per month)
Family...…............$85.00 (per month)
No court fees for Members
$100 processing fee for all memberships
     Pickleball Hourly Court Fee
                  Non-Members
Court Fees:
Monday - Sunday
7:30 am - 3:30 pm $6.00 per person / 2 hours
3:30 pm - 9 pm       $7.00 per person / 2 hours
      Pickleball Drop In – Open Play 
                (Members Free)
Day:
Monday / Friday 8 am-11 am
Cost $5.00
Call the club at 714-991-9090 for
more information
*Paddle Rental………..$2.00 per person